Sustainable Health Systems Corporation
Geoffrey E. Moore, MD FACSM — President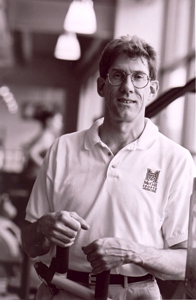 Dr. Geoffrey E. Moore graduated from Brown University in 1979 and the University of Texas Southwestern Medical School in 1987. He is the Director of Clinical Services at the Cayuga Center for Healthy Living in Ithaca, NY, and is an Adjunct Assistant Professor of Exercise Science at Syracuse University. In addition, he serves as the vice chair of the Family Health and Preventive Medicine committee of the Medical Society of the State of New York, and as chair of the US and National subcommittee for the Health and Science Policy committtee of the American College of Sports Medicine.
Dr. Moore's expertise spans the spectrum from physical activity and lifestyle modification in the care of chronic disease, to sports medicine for athletes. His clinical post-doctoral training included a residency in internal medicine and a musculo-skeletal medicine / sports medicine fellowship at McGill University in Montreal. In addition, he completed 3 years of research fellowships in cardiovascular disease and exercise science, and was a research associate at the Stanford Center for Research in Disease Prevention. He spent 6 years as an Assistant Professor at the University of Pittsburgh, where he was Director of Cardiac Rehabilitation for the University of Pittsburgh Medical Center.
Dr. Moore has 40 peer-reviewed research publications, and has co-edited 3 editions of a textbook published by the American College of Sports Medicine, ACSM's Exercise Management for Persons with Chronic Diseases and Disabilities. He also was a co-editor of Pollock's Textbook of Cardiovascular Rehabilitation. Both of these texts are regarded as the foremost texts in their areas.
Prior to medical school, he was an assistant coach of women's track and cross-country at Brown University. A runner since 1969, he was a regional standout in high school, ran NCAA Division I track and cross-country at Brown, competed in the 1984 and 1992 US Olympic Trials, and ran 3 sub-2:20 marathons with a lifetime best of 2:17:41. Having given up competitive sports, he now runs for fun and likes to cycle, windsurf, and cross-country ski.
GORGES Website Design & Development — Technology Partner
GORGES Website Design & Development, the technology partner in the Sustainable Health Systems team, is an Internet software development firm located in Ithaca, NY. The company's programming and design team has over 100 years of combined software development experience, and has collectively built over 500 websites using a broad range of Internet technologies.
GORGES works with the Sustainable Health Systems staff to design and implement all of its technology solutions, including the online Sustainable Health Questionnaire, the online administrative management tools, and other components of the website. More about some of the GORGES team is below.
Chris Grant — Chief Executive Officer, GORGES / Technology Partner
Mr. Chris Grant graduated from Cornell University's School of Engineering in 1992 and completed graduate work in computer science at NYU. Chris has been building Internet web sites and commerce applications since 1994, pioneering early database-driven Web application and e-commerce projects. He has been instrumental in the construction of hundreds of Internet projects, large and small.
Chris provided early insight into feature specification. He continues to provide a combination of business and technology vision to the relationship with SHSC.
Matthew Clark — Chief Technical Officer, GORGES / Technology Partner
Mr. Matt Clark graduated from Princeton University, summa cum laude, in 1985 and earned an MS in engineering from the University of Pennsylvania in 1989. Matt worked in academia, corporate research labs and several technology startup companies prior to GORGES. His expertise is software architecture, database development, and system administration. Matt brings GORGES over 25 years experience developing fast and robust software on a multitude of platforms and languages.
Matt was involved in the early architectural design of the SHQ, and provides wisdom and guidance on the ongoing development and improvement of the Sustainable Health Systems Corporation site and its web-delivered tools.
John Sammis — Chief Operations Officer, GORGES / Technology Partner
Mr. John Sammis graduated from Clarkson University with a BS in chemical engineering in 1985, and earned an MBA from Cornell University in 1991. John has over 25 years of experience working for technology companies, both large and small. He has been involved with product development, sales and marketing, and customer support.
John is the project manager for the Sustainable Health Systems Corporation project, interacting with the other members of the team to ensure that the SHSC tools met the defined specifications within the required timeframe.
Ted Caldwell — Application Programmer, GORGES / Technology Partner
Mr. Ted Caldwell graduated from University of Saskatchewan with a BS in mathematics in 1985, earned an MS in mathematics from McGill University in 1987, and an MA in linguistics from McGill University in 1994. Ted has been designing and developing innovative Internet and desktop applications since 1995, using a variety of technologies. His experience covers all phases of software development, from initial software architecture to end-user documentation, and he combines solid technical skills with a flair for visual design and presentation.
Ted is the lead application developer on SHSC project. He devised the initial system architecture and engineered and programmed many of its key features. Ted remains the primary developer of the next development phase.
Rasmus Schultz — Application Developer, GORGES / Technology Partner
Mr. Rasmus Schultz graduated from Denmark's Tietgen Business College with a BS in systems engineering in 1996. Rasmus has worked for web development companies, advertising agencies and a music software company during his extensive development career. His main strengths are software development and database design. Rasmus has more than a decade of experience with many development platforms, languages and standards.
Rasmus is the application development advisor to SHSC project. He provided key technology expertise at several points during the development of the SHQ, and continues in that role as the site moves forward.
Sean Kennedy — Web Designer, GORGES / Technology Partner
Mr. Sean Kennedy graduated from Hampshire College with a BA in Music in 1990. Sean arrived at GORGES after many years of audio engineering, performing, and teaching music. He found effective cross-over in his talents in working with music production to working on web site production.
Sean designed the site's look and feel, and continues to provide design ideas as new elements are added.
---
SHSC
950 Danby Road, Suite 125
Ithaca, NY 14850